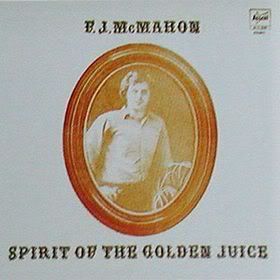 There's nothing new anymore.
Everything has been done to death, but when a piece of music starts to play and makes your spine tingle with delight, you tend to forget about originality and just go with the flow of the tune.
FJ McMahon's ultra-rare folk LP "Spirit of the Golden Juice" is one of those albums.
Originally released in 1969 on the Tigereye Music label and reissued on vinyl in the late 90's, this is a glorious folk album, very much in the style of Tim Hardin and my ears can hear a huge nod to the acoustic side of Stephen Stills.
Most of the tunes on the record are drawn from his experiences in Vietnam as a member of the US Air Force and were recorded after his return to Santa Barbara, California.
'Sister, Brother' is the opening song from the album and draws you in with its simplistic beauty.
Enjoy.